Decemberishly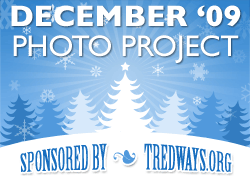 It's December now. Undeniably and unavoidably.
And you know what that means, right?
It's time to kick-off the
December Photo Project
!
Remember that from
last year
? It was fun! (
for me, anyways
) So let's play again, shall we?
I'm not sure I'll be posting a "Good Thing" item of thankfulness along with each photo, as I did last year. But I might. I just might.
(
I am a master of suspense.
)
So here we go. Me, you, December, Photo #1.
I wandered past this East Midtown Starbucks on my lunch break today, and remembered meeting up with MZB there one afternoon, three years ago.
We got our coffee, then grabbed seats by the window where we received an unrequested grammar lesson from an eaves-dropping senior citizen. Providing inspiration for this poem.
I know it's cliche, but SO much has changed in three years. And yet, I can't believe three years passed so quickly.
Time: she's a witchy woman and a slippery charlatan, wouldn't you agree?